Back from Malá Fatra, Slovakia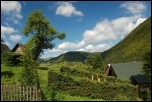 Slovak mountains are another place, where I like to spend my holidays. This time, we (my wife, son and me, and my parents-in-law) rented a cottage in the village
Zázrivá
and used it as a base for our trips.
My son especially enjoyed the statue of Jánoąík in Těrchová and walking around wet garden after rain 8) I enjoyed taking photos from the top of V.F. Kriváň mountain and from the bottom of ©útovo's waterfall!
Wonderfull week without e-mail (almost, you know me ;-).