Kalimera!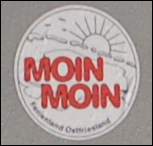 I'm now back (both physically and now also in my TODO list ;-) from my vacation at
Dodecanese
islands. Our central place was hotel Princess of Kos, Mastichari bay area,
Kos island
.
Our hotel was almost completely filled with German speaking tourists, I was not surprised to find this MoinMoin sign in the local bus...
The hotel was quite good (with the exception of food, but if you know me, you know why...). My son especially loved the biscuits provided at bars during the day. But I was a bit disappointed by the quality of the meals. I like Greek kitchen and every meal I had outside of the hotel met my expectations ;-) One of the best meal was Suvlaki with Greek salad and tzatziki prepared by mariner on our trip to Pserimos island.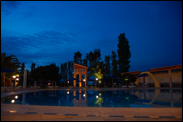 We have even tried the local wine called
Retsina
, wine of gods. My taste cells were not ready for it though.
Galaktoboureko
at Kalymnos island was another story. We knew this desert from our beloved hotel
Albatros
at Prachatice, CZ. But eating the original version was yet another culinary experience.

During our stay there, we have been at
Kalymnos
island (once via organized trip, the second visit was adventurous - we went by local Kalymnos Star regular boat which was - how to say it properly -
very
fast), jumped from the boat at Pserimos island and Platí islet. Visiting the city of Kos, Asklepeio, Kefalos and drinking frapee in the Zia village was our obligation.
To sum up: great holiday with family and friends.