Testing T602Filter UNO component
As I wrote on March 10th, there is an UNO component implementing T602 file format import. I received another batch of sample files from one of my customers and did a lot of testing on those files. Several issues found, but I plan to do more extensive tests in the second half of this week.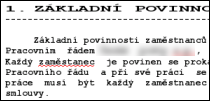 In general: the filter does a really decent job. There are issues with formatting tables and minor adjustments of lines between cells etc.
Just a side note: OpenOffice.org's Czech spell checker works wonderfully on those documents. You just open it, see A LOT of red underlines in the text because writers are really bad in writing using Czech and they haven't used spellchecker when creating those documents. Just press the right button on such word and choose the correct wording and you are done.
-----